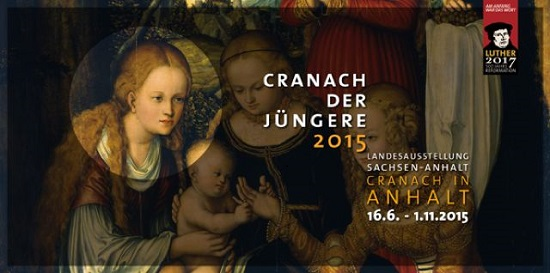 Cranach the Younger
Masterpieces of German Renaissance
Germany celebrates the 500th Birthday of Lucas Cranach the Younger with an impressive exhibition "Cranach the Younger 2015". It is the first worldwide exhibition which is dedicated to the life and work of the master. At original locations in Lutherstadt Wittenberg, in Dessau, and Wörlitz, the exhibition presents the most important and most valuable works of art of the German Renaissance.
After arrival at Berlin airport your group will enjoy a brief tour of the German capital before travelling to Wittenberg. Here Lucas Cranach the Younger was born and spent his life. Staying in Wittenberg for three nights your group will have enough time to visit the Grand Exhibition about Cranach as well as his works in the local churches. The guided tour of the town will of course also include places where reformer Dr. Martin Luther lived and worked. A day excursion takes the group to churches and exhibitions in the surrounding area like Coswig, Dessau, and Woerlitz.
Leaving Wittenberg and heading south, the group visits Gotha to see an exhibition about Cranach and the Reformation. Two day excursions in the area include the magnificent Wartburg Castle with its collection of Luther portraits by Cranach, the exhibition at Veste Coburg, as well as a visit in Kronach, the town the Cranach family originates from. Back to Berlin for a final night before the homebound flight.
| | | |
| --- | --- | --- |
| | | Private motor coach from/to Berlin Airport (de-luxe coach with reclining seats, A/C, bathroom, video/DVD), incl. road taxes, bus miles, bus parking on scheduled tour sites |
| | | TERRA LU TRAVEL tour director, experienced Lutheran, the friendly host for the group |
| | | 8 nights in selected 4-star hotels |
| | | All breakfasts and dinners |
| | | Local guides for tours of visited towns and churches |
| | | Admission to all Cranach2015 exhibitions and visited churches in Wittenberg, Coswig, Dessau, Woerlitz, Gotha, Wartburg Castle, Veste Coburg, and Kronach |
| | | Terra Lu Wittenberg Coupons™ for free admission to all museums and exhibitions in Wittenberg (includes Lutherhouse, Melanchthonhouse, Lucas Cranach Museum, Exhibition of Modern Christian Art, and others) - exclusively developed and offered by Terra Lu Travel |
This itinerary is a sample, based on tours we planned for groups. But no two Terra Lu tours are the same. Our proposal for you might be different, depending on time of travel and availability of services.
Package for a group of 35 travelers: 960 Euro per person
Please request a customized quote for your group!